Top UK government lawyer quits
Planned changes to Brexit agreement "led to disagreements with attorney general"
Sir Jonathan Jones has resigned as head of the UK government's legal department. He is the sixth senior Whitehall official to quit this year.
No reason has been given for his departure. But the Financial Times seems to have the best inside account.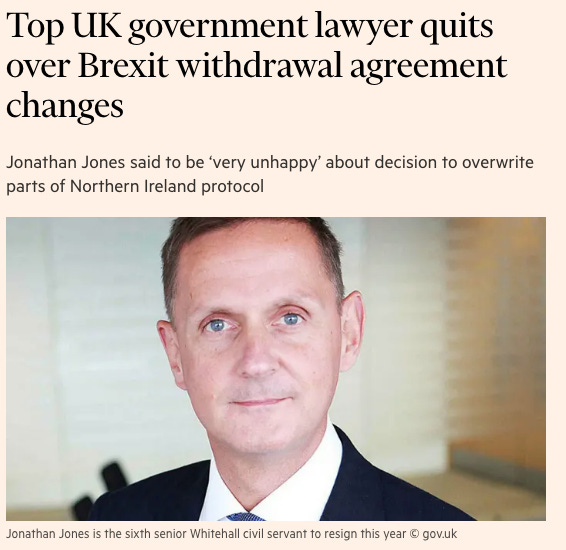 The FT reports that Jones has left his post because of a dispute with Downing Street over its plans to challenge parts of the Brexit withdrawal agreement:
Those close to Sir Jonathan said he was "very unhappy" about the decision to overwrite parts of the Northern Ireland protocol, part of the 2019 withdrawal agreement, with new powers in the UK internal market bill. One person familiar with the events leading up to Sir Jonathan's decision to resign said it had followed months of tension over the handling of the Brexit negotiations and legal disagreements with Suella Braverman, the attorney-general.
I don't think I can quote any more of the story without breaching the FT's copyright. So I suggest you read it here.
Update: while you are on the FT website, read this analysis by a former government lawyer.