Trial by movie
Can a picture palace ever be a palace of justice?
Scottish juries will sit in multiplex cinemas to try criminal cases this autumn. Trials will be relayed to them through secure video links and jurors will deliver their verdicts without visiting a courtroom. It's a radical solution to the need for social distancing among jury members that has so far been rejected by judges in England and Wales.
Most courtrooms have fixed seating and there is not enough room for jury members — 15 in Scotland — to sit far enough apart from others in court. While the coronavirus restrictions continue, jurors called for service in Scotland's High Court later this year will be told to report to jury centres in cinema complexes. As these were designed to allow different films to be shown at the same time, it will be possible for several juries to sit independently in the same building.
Everyone else involved in the case will be based in court as usual. Cameras and microphones will relay the proceedings to the cinema where jurors will hear and see the trial as if they were watching a movie. The screen will be divided into four so that jurors can see the judge, counsel and the accused while listening to witnesses or viewing the evidence.
Communication must be in both directions: there will be cameras facing the jury members so that their faces can be seen on video screens placed above the jury box. Jurors will be able to send messages to the judge through a court attendant in the normal way.
The Scottish Courts and Tribunals Service will have exclusive weekday use of multiplex cinemas in the Glasgow and Edinburgh areas. It's hoped that as many as 16 screening rooms will be available across the two centres — and perhaps more in future.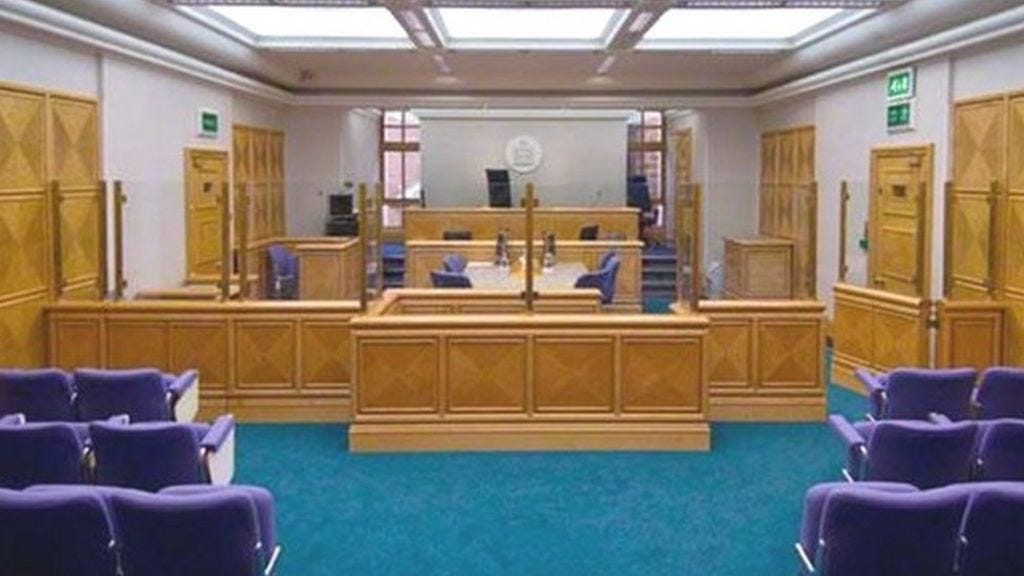 Following the lockdown in Scotland, jury trials resumed less than a month ago. In Glasgow, three courtrooms are needed for each trial: the main courtroom with the 15-person jury in the gallery seating area; a separate room large enough for socially-distanced jury deliberations; and a media viewing room.
In Edinburgh, where the courts are slightly smaller, two courtrooms are used for every case: the trial court, with reporters in the gallery; and a separate room where the jury can watch the proceedings on a video link and then discuss the evidence. These arrangements will continue for the time being.
What was not known until now was that a mock trial was held as well. It used the Edinburgh two-court model but a specialist jury watched the proceedings from a cinema complex instead of an adjoining courtroom. This experiment was regarded as a success and it will now form the basis of live hearings.
Eric McQueen, chief executive of the Scottish Courts and Tribunals Service, said:
The great advantage of these remote jury centres is that they provide, in a single building, a number of spacious and soundproofed auditoria that can comfortably accommodate 15 physically distanced jurors, combined with state-of-the-art secure technology. It also means we have a model that can be replicated at various sites around the country. Everyone who saw the test set-up was impressed both by the quality of audio-presentation of court proceedings, and by the way in which the cinema complexes can be transformed into centres that properly reflect the solemnity of court proceedings.
The arrangements were approved by a working party chaired by Scotland's second most senior judge, the lord justice clerk Lady Dorrian. "The beauty of this solution," she said, "is that it preserves the 15-person jury trial, and will allow us, in time, to raise business in the High Court to a level that will start to address the growing backlog of cases".
Humza Yousaf, Scotland's justice secretary, added:
As we continue to move out of lockdown we need new thinking and collaboration to deliver jury trials in line with public health requirements. Lady Dorrian's working group and the courts service should be commended for finding and delivering a ground-breaking solution that significantly increases High Court capacity to make up to 16 jury rooms available while importantly adhering to physical distancing rules.

Our £5.5m funding of this scheme not only allows serious criminal cases to proceed, but also provides reassurance to victims, witness and accused who have been adversely affected by case delays. Work is ongoing to consider what further actions may be required to address the backlog and for remote jury centres to be further rolled out for sheriff and jury cases.
There has been a campaign, so far unsuccessful, to persuade Yousaf's counterpart Robert Buckland that juries in England and Wales should sit in remote locations. The human rights group Justice conducted four mock trials, the last of which was conducted with all the volunteer jurors meeting at a hall within walking distance of their homes. This was regarded as an improvement on earlier experiments, when jurors were required to connect to the court from home.
But even when they sat at their local hall, the volunteer jurors had to view the proceedings on computer monitors. Nobody in England seems to have thought of hiring a cinema so that the jurors could sit in comfort and watch the trial on a large screen.
That might not have been enough to overcome the scepticism of England's most senior judge. In an edition of the BBC Radio 4 programme Law in Action broadcast on 16 June, I asked the lord chief justice what he thought of "the idea that they're trying in Scotland where you invite members of a jury to go into a room somewhere — it doesn't have to be in the court building — it's a room large enough for them to sit round a table and deliberate; and the trial is fed to them on a video link".
Lord Burnett of Maldon replied:
That is something which has been discussed in London, but so far, it hasn't secured a great deal of enthusiastic support. Not least because it seemed to make the jury spectators rather than participants in a trial; and judges and lawyers are undoubtedly concerned, as I don't doubt they're concerned in Scotland too, about a lack of engagement between the jury and the advocates; and the jury and the judge; and the jury and the defendant and witnesses.
That may be so — but Burnett's view was not based on empirical evidence. Indeed, academic research into the Justice mock trials suggests that the opposite is true:
A number of participants commented on the fact that the jury was very engaged with the case. Many of the jurors were actively taking notes, asked pertinent questions, asked for more evidence, and indicated that they would have been prepared to stay longer if necessary.
On the other hand, the Scottish government and the Scottish courts are adopting a method of trial that has not been tested on a single mock jury of randomly selected lay people and, as far as we know, has not been tried anywhere in the world.
Those accused of serious crimes in Scotland may not like the idea of being tried by a jury whose members can be seen only on a flat-screen television. Jury intimidation will be much harder too. And those who associate the movies with escapism and entertainment will have to get used to screenings where the lights are up, the popcorn machine is off and a quick snooze during the quiet bits may amount to contempt of court.
But the move has been welcomed by the Scottish criminal bar ("radical solution … innovative thinking … other jurisdictions will follow") and Victim Support Scotland ("delays to proceedings can have a devastating impact"). It's certainly better than reducing the right to choose jury trial or reducing the number of jurors, both of which were mooted by the lord chief justice of England and Wales but not carried through by the government.
Comedians and cartoonists will have a great deal of fun with today's announcement from the Scottish Courts and Tribunals Service. But Dorrian and her working party should be commended for a solution to the growing backlog of jury trials that is imaginative, practical and principled.
Somebody should make a movie out of it.
Update 9 September: The first trials will begin in Edinburgh (Fort Kinnaird) on 28 September and in Glasgow (Braehead) on 12 October. Jurors at Odeon cinemas will watch proceedings relayed from Lawnmarket, Edinburgh, Edinburgh Sheriff Court and Livingston Sheriff Court.
From the end of this month, I shall start charging readers for pieces such as this. Many thanks to those who have already purchased subscription.